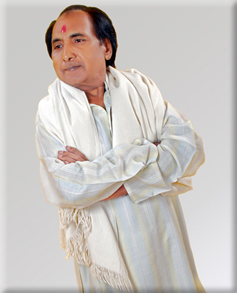 Guru Beeru Pawar
Guru Beeru Pawar ji who hails from a family specializing in Braj Ras found his calling in the field of creative arts when he was all of 10 years of age. To embark on his creative journey at the age of 14 he joined the Guru Shishya parampara (Teacher disciple tradition) under the aegis of Maharaj Krishna Kumar. It was under the guidance of his master for about 22 years that Guru Beeru Pawar ji studied, learnt, refined and horned all the critical and important nuances of almost all Indian dance forms. He amassed in depth knowledge and mastery in Kathak of the Benaras Gharana which he performs with superior perfection. Guru Beeru Pawar specializes in the aspect of "Bhav Paksh" (expressions) found extensively in the Indian dances and is of the opinion that without expressions a dance is devoid of its soul.

The experience of Guru Beeru Pawar ji beautifully reflects through various dance ballets which have been written, composed as well as choreographed by the able guru himself. Notable examples of these ballets include the likes of Maanav, Sainani, Yeh Kaisa Inqlaab and Meera. Also to his credit is the honor of being the founding father of the prestigious Nateshwar Kala Mandir situated in New Delhi.

Presently Guru Beeru Pawar ji resides in New Delhi, India with his wife Nirmala Pawar and two beautiful children Abhas and Aarti.